Poster presentations were interspersed by talks about funding by Drs Helen Harris-Joseph (NIHR Trainees Co-ordinating Centre, TCC) and James Sheppard (Oxford's Nuffield Department for Primary Care Health Sciences). Recruitment in Primary Care was discussed by Dr Rhian Hughes (Keele University) and trainees Dr Jane Vennik (University of Southampton) and Kieran Ayling (University of Nottingham).
The trainee event is a unique opportunity to meet other NIHR SPCR students: The brief poster presentations (10 minutes plus 5 minutes discussion) are very dynamic and it is great to dip into many different research areas. The discussions are very friendly and constructive so everyone gets something out of them. 

- Nadia Khelaifat, University of Bristol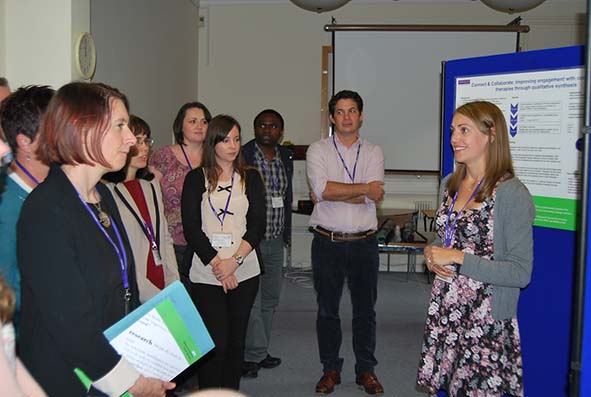 Above: Janice Atkins (UCL) presents her poster entitled 'A posteriori dietary patterns and the risk of cardiovascular disease and mortality in older British men' to her group in the Danson Room.